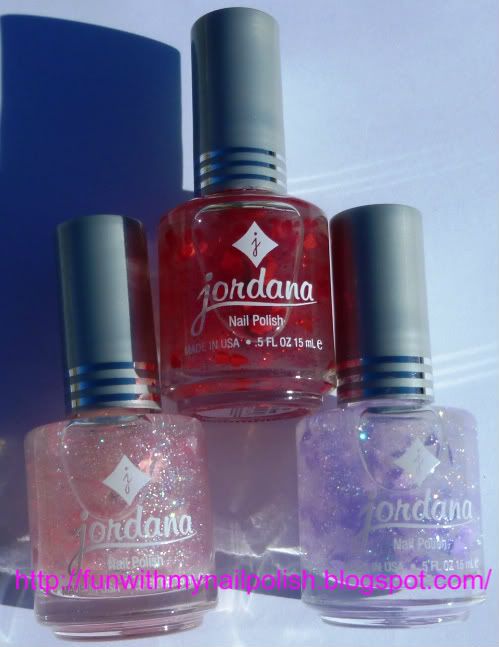 Clockwise from the top: Jordana 674 Red of Hearts, 673 Lilac Hearts, and 675 Pink Hearts.
I actually bought these a couple of weeks ago from my local grocery store. You can see that I used two of them in the
Week 1- Make it Sparkle Manicure
. They look like knockoffs/dupes of Nicole by OPI's
Have A Heart
,
Love Your Life
, and
Step 2 The Beat of My Heart
. I don't know how close the Jordana polishes are to the Nicole ones, because I don't own the Nicole ones, but I can show you swatches of the Jordanas.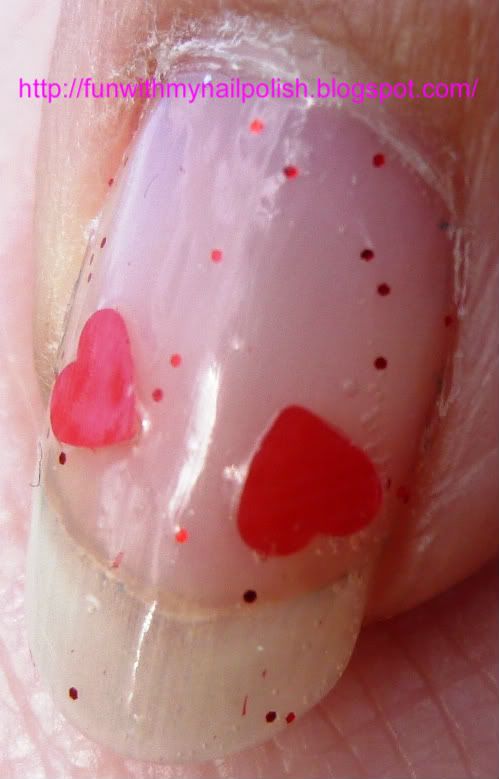 Here is 674 Red of Hearts, sorry about the horrible dry cuticles. The red glitter was spare in this polish when compared to the Lilac or Pink Hearts.
673 Lilac Hearts, also has dry cuticle, sorry. This polish seemed to have the most glitter.
675 Pink Hearts, this one turned out blurry in the pictures the first time and I removed the polish before I knew the picture was blurry, so it had to be redone. No dry cuticles this time, but lint or fuzz instead. :\
All of these polishes apply on thick, were three coats each, fast drying, and the hearts had to be purposefully pulled out of the polish. I saw in the Nicole by OPI forums that the Nicole heart polishes also had this problem, getting the hearts out of the bottle was difficult.
In all, not bad for $3 for all three polishes and will probably appear in my Valentine's Day manicure.
These products were bought with my own money for review by myself.