At first I wanted to do something spring like and flora, but then I went outside and remembered that it is still winter here.
So, here is what I used: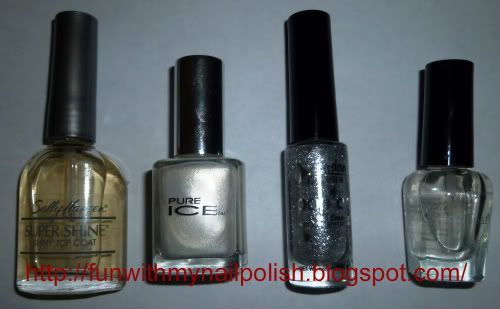 From left to right is:
Sally Hansen Super Shine top coat
, Pure Ice: Platinum, Jordana: Pop Art in Star Designer, and The Color Workshop top coat.
I forgot to take pictures of the process, but here is what I did: I started with first laying down a coat of Sally Hansen Super Shine and then I used painter's tape to tape off the ends of my nails. I painted the tips with Pure: Ice Platinum. I removed the tape and laughed at my horrible middle finger, I didn't place the tape right and you could really tell. So I broke out the nail polish remover and did that nail over. Then I used The Color Workshop's top coat, there was no reason for changing from the Sally Hansen, I just wanted to try it out (it is a bit thick but it dries pretty quickly.) Then I practiced using the Jordana: Star Designer, it has a long brush for striping and I had never used one before. I sealed that with another layer of top coat. On my ring finger I attempted a snowflake design with the Jordana, I think it looks a bit more like a star, but my 5 year-old daughter did call it a snowflake without any prompting. Then I place
one clear rhinestone
in the center of the snowflake/star and sealed it in with another layer of top coat.
Here it is a picture indoors: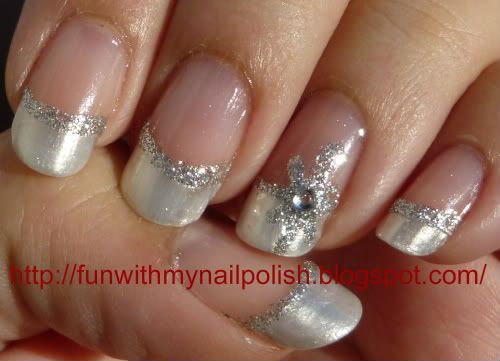 and a picture in the sun outside: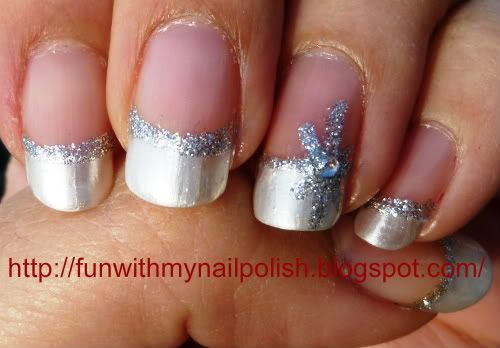 A closeup of the snowflake/star: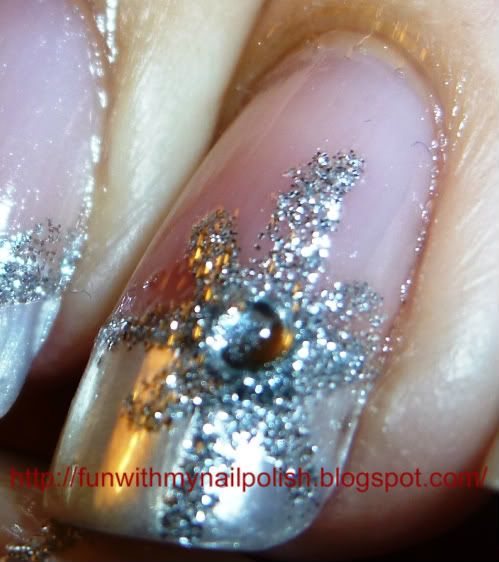 I did have a little bit of trouble with the Pure Ice: Platinum bubbling again, I don't know what is wrong with that polish.
I'm planning on doing the color block manicure tonight because my nails are getting too long and will need to be cut soon or else the will break. And when they break they like to break in the quick and that just hurts. Hopefully I figured out the right type of manicure to do, I did a search on google and it brought up stuff that I know couldn't be color block (like French tips and half-moon manicures.)
These products were bought with my own money for review by myself.