새해 복 많이 받으세요! (saehae bok mahni badeuseyo) Many fortunes in the New Year.
I based my manicure on one that I saw before, but I can't find the website. If I do I will link to it here. The photo I saw had a much more subtle gradient, but I didn't have the polishes that were used in the photo. I think mine kind of looks like fire.
The colors are a little off here, it is snowing so there is no natural light, not even through the windows.
Here is what I used: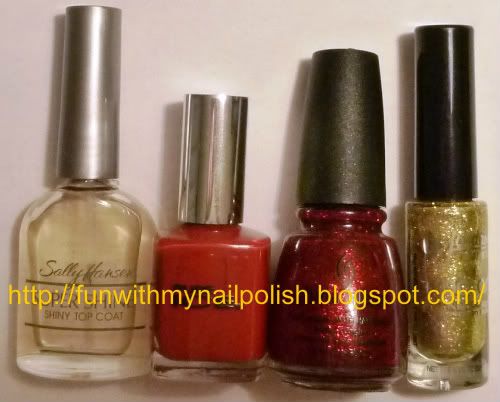 From left to right:
Sally Hansen Super Shine
, Pure Ice: Siren,
China Glaze: Ruby Pumps
, and Jordana Pop Art in Golden Artist.
The base coat was Pure Ice: Siren, and then I layered half of my nail with China Glaze: Ruby Pumps.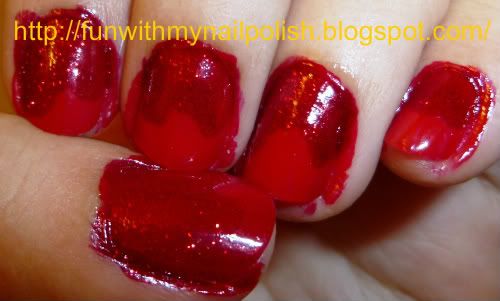 I put a layer of top coat, and then layered the lower half with the Jordana (which is actually a stripping polish, but it is the only gold glitter polish I have.)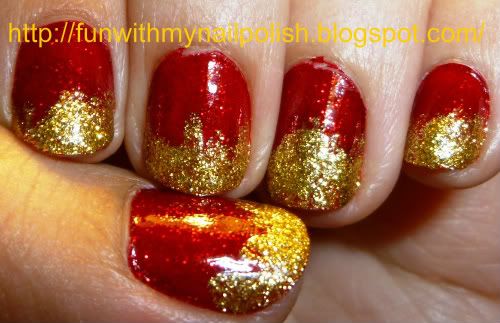 What do you think? Do you celebrate the lunar new year?
These products were bought with my own money for review by myself.