I don't normally do pink or girly nails, but for Valentine's day I did. For my Valentine's manicure I used these products: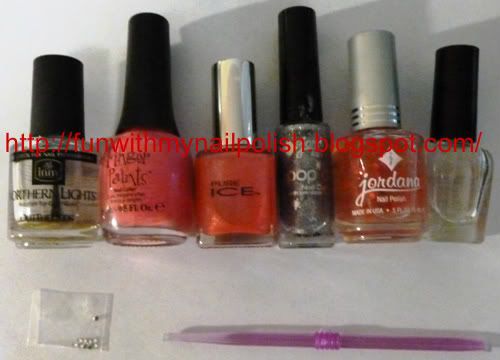 From left to right:
Northern Lights Hologram Gold Top Coat
,
FingerPaints: Watermelon Watercolor
,
Pure Ice: Watermelon Ice
, Jordana: Pop Art in Star Designer and Red of Hearts, and The Color Workshop top coat.
First I used one coat of the Hologram Gold, then I taped off for French tips. I painted the tip part with two coats of Finger Paints: Watermelon Watercolor, and after that dried I added one coat of Pure Ice: Watermelon Ice for a bit of sparkle. After taking the tape off I did some clean up with a Q-tip dipped in nail polish remover. Then I added another coat of Hologram Gold, but just to the top bit of nail. I free handed a strip of Star Designer and then a top coat to seal.
On my ring finger I did things a bit differently. After the strip of Star Designer I added a coat of Red of Hearts, placed the four rhinestones and fished out one of the hearts in the Red of Hearts polish. Because the Red of Hearts polish is a bit cloudy I added a coat of Hologram Gold to the top part and then sealed with a top coat.
These products were bought with my own money for review by myself.